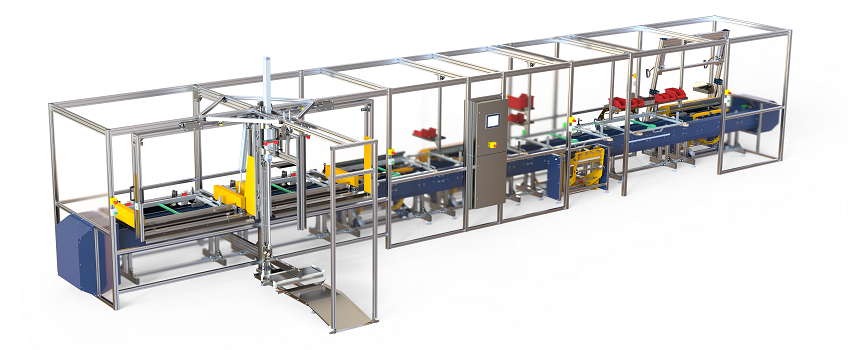 Design and build of bespoke industrial machines
Our Design Office has many years of experience in designing and constructing machines such as:
✓ Production and assembly lines
✓ Robotic cells
✓ Industrial machinery
✓ Machine parts
✓ Enclosures
✓ Conveyors – roller, belt, chain, and others
✓ Lifts
✓ Welded structures
Fabrit specializes in designing and constructing custom machinery, providing excellent solutions for companies seeking innovative ways to automate and robotize their production. Our experienced team of engineers, combined with the use of state-of-the-art technologies, allows us to create machines specifically tailored to the individual needs of our clients.
Our services in designing and constructing machinery are based on a thorough understanding of the requirements and specifications of each project. This enables us to provide efficient and precise solutions that optimize production processes and enhance productivity. Regardless of the complexity of the task, our team is ready to meet even the most demanding challenges.
Production Automation
Production automation has become a crucial element in modern industry. With our machinery solutions, we can assist you in automating various manufacturing processes. We create innovative and flexible machines that allow for precise control, quick changeovers, and optimal resource utilization. This enables increased productivity, elimination of human errors, and savings in time and costs.
Production Robotization
Robotic automation is the next step in enhancing industrial processes. At Fabrit, we offer solutions based on the latest robotic technologies. Our machines equipped with industrial robots enable precise and repeatable execution of complex tasks, increasing production efficiency, quality, and safety. We provide comprehensive support, starting from design, through the integration of robotic systems, to training and service.
By choosing our services for designing and constructing custom machinery, you gain a partner who will deliver innovative and efficient solutions that meet the highest standards of quality.
We utilize professional CAD software such as SolidWorks and Inventor for our design processes. These software tools enable us to create precise and detailed 3D models, perform simulations, and generate technical documentation for our custom machinery projects.