Machines presentation in Virtual Reality (VR)
Fabrit will take you into the fascinating world of machinery in virtual reality (VR). By harnessing the latest technologies, we offer precise representations of machines in a virtual environment, allowing you to explore and interact with industrial equipment in a truly innovative way. With our VR solutions, you can experience a realistic and immersive environment where you can interact with machine components, simulate their operation, and even test different scenarios. This technology provides a unique and engaging way to visualize and understand complex machinery, aiding in design, training, and decision-making processes.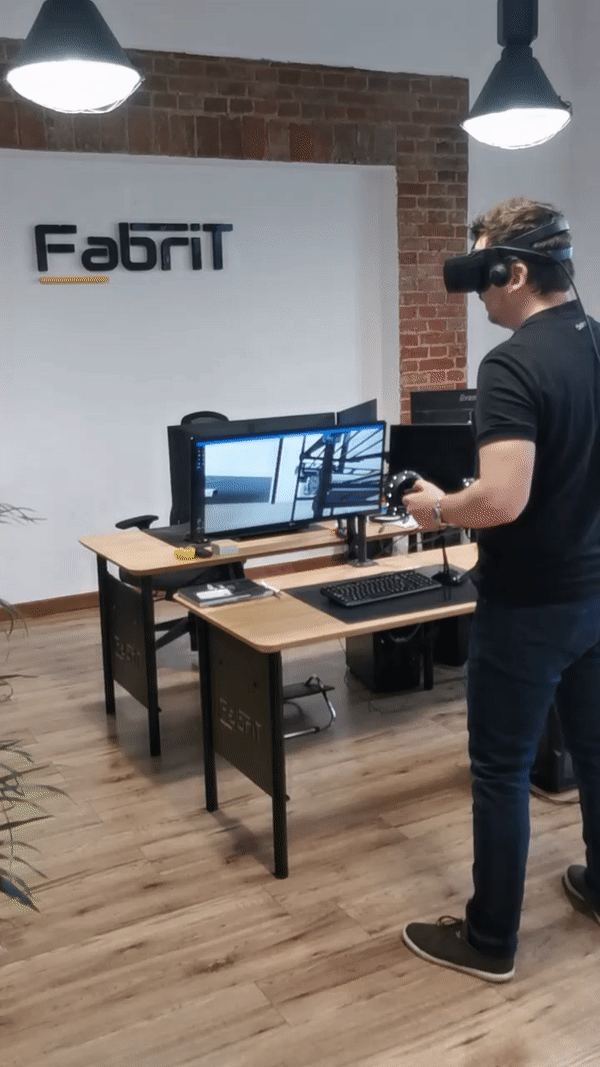 Industry 4.0 – Tech revolution on your hand
Industry 4.0 is a revolution in the industry that enables the integration of modern technologies with manufacturing processes. Our virtual reality solutions allow you to explore the potential of Industry 4.0 by transporting you to a virtual showroom of our machines. This enables you to learn and understand their operations, features, and benefits before they are even implemented in reality.
Virtual Showroom and Virtual Walk – move to the future
Our virtual showroom is a space where you can explore different models of machines, discover their features and capabilities. By utilizing the virtual environment, you can walk through production lines, observe details, and interact with the machines, enhancing your understanding of their operations and potential. It is an extraordinary experience that allows you to glimpse into the future and better prepare for the implementation of innovative solutions in your company.
Accurate machine replication – Realistic virtual reality experience
Thanks to our advanced technologies, we accurately replicate machines in virtual reality. Precise models, realistic textures, and interactions allow you to delve into every aspect of the machines, their components, and functions. You can see exactly how the machines operate, what elements they consist of, and the benefits they can bring to your company.
By choosing our VR machine services, you are stepping onto the path of the future and opening doors to new possibilities. Contact us today to learn more about our virtual reality solutions and to schedule a presentation in our virtual showroom.